As the name suggests " Pump Intake " is where the well fluid enters the Submersible Pumping System. Care should be taken when designing a submersible pump intake because it is such a vital point in the system that when not designed properly may create all kinds of problems.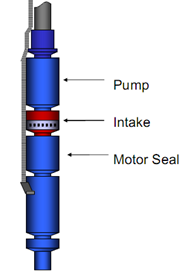 There are three types of intake Sections:
Standard Intakes or BOI (bolt on intake),
Integral (manufactured as part of the pump),
Gas Separators (static and rotary gas separators).
Standard and Integral Intakes:
Standard intakes (BOI and integral) do not separate gas.  Some gas separation might occur, but it will only be natural separation due to some of the gas not turning and going into the intake when the rest of the fluid does. Therefore, the standard intake is for wells that produce with a very low free gas to liquid ratio. The amount of free gas by volume at pump intake conditions should be no more than 10% to 15% by volume (depends if it is a radial or mixed flow stage)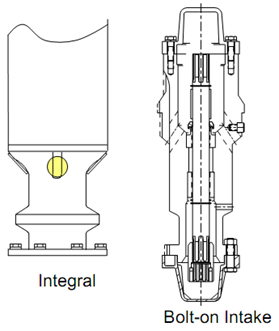 Usually, the pump intake is a separate component that bolts onto the bottom of the pump section. Occasionally, the pump is built in either a lower tandem or single configuration. In these cases, the pump intake as an integral part of the pump assembly.