A back-pressure valve is a type of check valve, typically installed in the tubing hanger, to isolate the production tubing. The back-pressure valve is designed to hold pressure from below yet enable fluids to be pumped from above, as may be required for well-control purposes. Thus, it reduces downtime and operating cost by allowing for repairs without killing the well.
BPV is commonly used during the nipple down and up of the drilling BOP stack, nipple up or down of Christmass trees, test the Christmas tree (2-way check valve), and during the replacement of the master valve.
NB: A two-way check valve is designed to fit the same profile as the BPV. It holds pressure from both directions while allowing equalization when required and is used to test the tree and BOP assembly.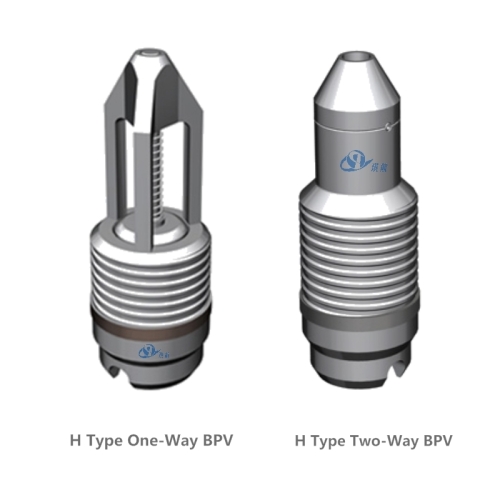 A BPV is set in a profile provided in the tubing hanger using a special tool and lubricator assembly for threaded BPV models, or by slickline for profile set models.
The most common types of BPV are:
Cameron Type H BPV
Petroline ABC BPV.
If during the life of the well it becomes necessary to remove the Christmas tree or repair the lower master valve, the back pressure valve can be reinstalled in the hanger without killing the well. The lubricator consists of a rod, which works through a yoke provided with two stuffing boxes. By closing the vent valve and opening the equalizing valve, well pressure acts on both the top and bottom of the rod. The rod can then be moved up or down by means of a friction wrench. Experienced operators can utilize the well pressure in moving the rod by manipulation of the valves.
Setting and removal Procedure:
For setting, the running tool is inserted into the right-hand thread at the top of the valve, and then attached to the polished rod. When the valve has been lowered into the hanger, the rod is lowered so that the cross pin in the running tool engages in the slot on the top of the valve. Left hand (anti-clockwise) rotation is applied to insert the valve. Once the valve is fully seated, moving the rod up to lift the pin from the slot and continuing a left-hand rotation backs out the running tool.
For removal, the pulling tool is attached to the rod and lowered to the valve. Right-hand (clockwise) rotation makes up the pulling tool. The rod is lowered into the slot on the top of the valve and continuing the right-hand (clockwise) rotation removes the valve.
Reference:
Schlumberger Oilfield Glossary