The tubing, in a well produces by the mean of a rod pumping system, represents the second largest investment in the well. Every day, every stroke on the pumping unit can cause wear in the tubing. On ever stroke the rods move up and down. Especially for deviated wells, the rods will always tend to lie on the downside of the tubing. So, on every stroke of the pumping unit, the rods are wearing a path into the metal of the tubing, path that will become a hole in the tubing.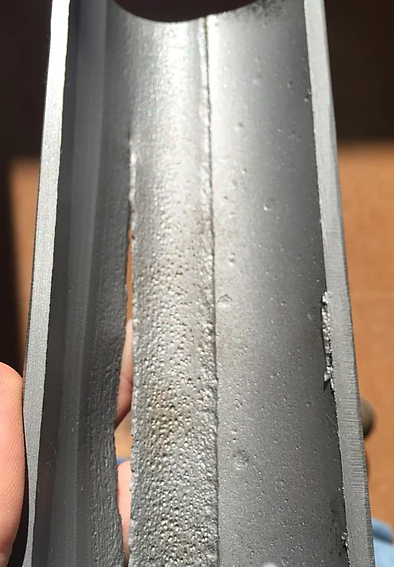 Rod-wear track in tubing (from a 1" Spray-Metal coupling rubbing in 2 7/8" tubing)
Tubing Wear:
In a typical pumping well running at 10 strokes per minute, the rods will move against the tubing 14400 times every day. This wear will eventually cause a tubing failure. A common tubing failure is termed a "tubing split" and normally will be thin on one side of the tubing's internal surface (about 20% of the tubing's circumference) and can be detected by pinging with a hammer, cutting open the tubing, or running a thumb inside the tubing to feel for the thin area. The outside of the tubing will normally have a "tubing split" where a thin crack 1 to 5 inches long runs along the longitudinal axis of the tubing as shown in the following figure.