As per API RP11 S5, supplementary layers of materials, named: braids and coverings, are used to guarantee a specific mechanical performance characteristics. It could be either applied over the insulation or on both sides of the jacket. Braids and coverings provide additional strength and protect the underlying cable components. On the other hand, these materials increase the cable diameter and the associated cost. Furthermore, they are also susceptible to deterioration depending on well fluids and conditions.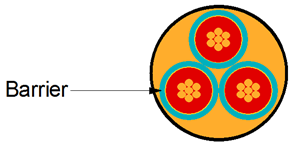 Braids:
Braids are a woven reinforcement layer of synthetic material applied over the insulated conductor. One of the most common braid materials is Nylon (polyamide). The main purpose of a braid is to provide additional hoop strength for the insulation during decompression of entrapped well gases. However, the braid could create path for migration of well fluids under some well conditions.
NB: Nylon is susceptible to degradation when exposed to moisture at temperature above 100 C (212 F).
 Barrier tapes:
Barrier tapes are commonly applied directly over the insulation to provide a produced fluids barrier. The tapes are generally used in conjunction with and overlying braid covering. Two types of barrier tapes are most commonly used:
Polyvinyl Fluoride (PVF) tape,
Ethylene Tetrafluoroethylene (ETFE)
NB: PVF is very resistant to chemicals but it has a temperature limit of 149 C (300 F). On the other hand, ETFE is less resistant to chemicals but it has higher temperature capabilities up to 193 C (380 F).
Extruded barrier coverings:
Extruded barrier covering is another type of barrier which uses an extruded covering in place of braid and tape. It is extruded over and under the insulation to provide mechanical protection, chemical resistance, decompression resistance and electrical strength.
Depending on temperature condition, there are a couple of extruded barriers commonly used:
For temperature up to 149 C (300 F), thermoplastic polyvinylidene fluoride (PVF2) and ethylene chlorotetrafluoroethylene (ECTFE) are used,
For temperature up 204 C (400 F), fluorinated ethylene propylene (FEP) is used.
Lead sheath:
A lead sheath or jacket is a continuous seamless covering over the insulated conductor. It is applied onto the cable via an extrusion process and it provides an excellent gas and liquid barrier for the insulation.
Leads are known as an effective barrier to protect the copper against H2S effects. However it is a soft material and can be easily damaged. Also, cables with this type of covering are very heavy and can pose handling difficulties.
NB: Bedding materials are required during the manufacture of lead sheath cable to protect the lead surface from mechanical damage during armoring. A typical bedding material is nylon braid.