Compared to conventional ESP installations with constant motor speeds, installations running at variable frequencies have several advantages. The most important benefit of a Variable Speed Submersible Pumping System is the wide flexibility of the variable frequency ESP system that permits perfect matching of the lift capacity of the ESP system and the well's productivity. Therefore, it operates over a much broader range of capacity, head, and efficiency.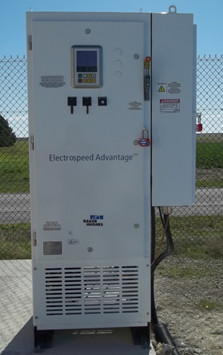 NB: Variable Frequency Drive basics (also, named: Variable Speed Drive) are presented and discussed in the article "Variable Frequency Drive Basics".
Since a submersible pump motor is an induction motor, its speed is proportional to the frequency of the electrical power supply. This relationship between variables involved in pump performance (such as head, flow rate, shaft speed) and power is known as "Affinity Laws" (also called "Pump Laws").